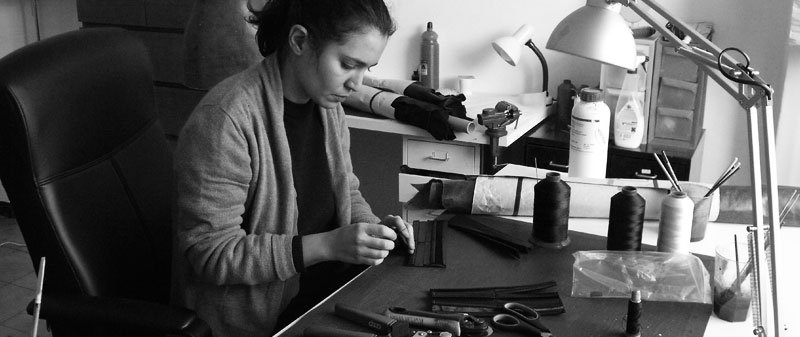 Non servono molte parole d'effetto per raccontare il lavoro di Giulia.
La speranza è che possa essere compreso osservando e, perché no,indossando i suoi ornamenti.
Passione, ricerca e dedizione. Sono queste le parole che meglio descrivono l'atteggiamento di Giulia verso le sue creazioni: ornamenti contemporanei realizzati a mano con pregiati pellami di recupero.
Pezzi unici che sembrano provenire da un immaginario sommerso fatto di inchiostro, profonde luci offuscate e vellutati fluidi di palude.
Uno stile a metà tra la moderna decadenza, caratterizzato da onde, drappeggi e linee morbide e il tribale, con sottili, soffusi richiami fetish; uno stile in cui il concetto di "accessorio" sembra svanire, lasciando al suo posto l'idea dell'ornamento come grande protagonista.
You don't need many words to describe Giulia's work.
The hope is that it can be understood by observing and, why not, by wearing her ornaments.
Passion, research and dedication. These are the words that best describe Giulia's attitude towards his creations: contemporary ornaments handmade with fine recovery leather.
Unique pieces that seem to come from a submerged imaginary made by ink, deep dimmed lights and velvety fluids of swamp.
A style in the middle between the modern decadence, characterized by waves, drapes and soft lines and the tribal, with thin, suffused fetish calls: a style in which the concept of "accessory" seems to vanish, leaving in its place the idea of ​​ornament as a great protagonist.
Giulia Boccafogli
Via Gabriele Castellini 4C, 22100, Como, Italy
P.iva 02742611201